Exterior House Painting Contractors In Auburndale, Waltham, Newton & Nearby
Long-lasting, quality exterior home painting services in Boston Metro area and surrounding suburbs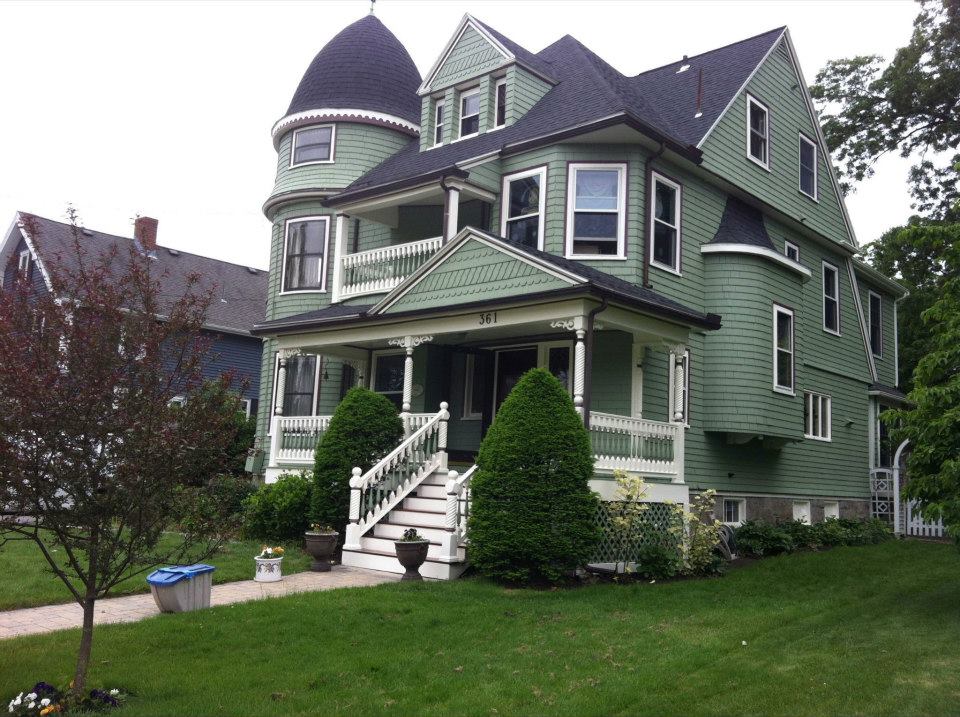 We'll help you choose the right color and type of paint to fit your home's style and provide you with a beautiful finished appearance.
Exterior painting comes with a unique set of challenges that must be understood for a high-quality finish. How well your paint withstands these challenges will determine the appearance and value of your house, as well as how long it will take before repainting is necessary.
At Tom Curren Companies we specialize in exterior house painting of all types. We take pride on our reputation for great-looking results, fair prices, and customer satisfaction.
If you live in the Massachusetts area and are interested in a free exterior painting quote, contact us today! We serve Auburndale, Waltham, Newton, Somerville, Arlington, Brookline, Watertown, Natick, Lexington, Watertown, and many surrounding areas.
Customer Reviews
"I have an 1849 antique home. As you can imagine, a home of this age needs..."

"Longtime client, painting, small jobs, and substantial renovations..."

By Jennifer C.
Wayland, MA

"After the Tom Curren Companies handled my interior painting work this..."

"Tom Curren Companies has painted and repaired the exterior and interior of..."

By Bernice S.
Wellesley, MA

"I couldn't ask for a better person to work with than Barry Eldershaw of..."

By Katherine M.
Wellesley, MA

"A year ago, I decided it was time to paint my quirky antique cottage with..."

"They were very hard working, quiet, and thorough. They worked from 7:30 am..."

"We've used Tom Curran companies for 8 years, starting with a whole house..."

"Deck and stairs were painted. Several deck board were replaced as was a..."

"The job included painting the entire exterior of my house and garage,..."

By Barbara F.
Concord, MA

"Tom Curren Companies was hired to do some work/odd jobs that required..."

By John L.
Auburndale, MA

"Great job painting our (large old) house. No damage to plants. Cleaned up..."

"I decided to paint the outside of our 4,500sq.ft. house this year as it..."

By Georgene H.
Lincoln, MA

"I hired Tom Curren Companies to complete several pesky maintenance tasks..."

"Working with Tom and his crew was an exceptional experience. Everyone came..."

"We have used Tom Curren Painting on several occasions for interior and..."

By Laura G.
West Newton, MA

"Tom Curren's painters have been painting the inside and outside of my..."

"We are really pleased with the work the Tom Curren Companies did for us,..."

"The Tom Curren team invested a good week on prep and a lot of time getting..."

By Marianne P.
Watertown, MA

"In late April, 2015, Tom Curren Companies sent a crew of three to paint a..."

By Deborah D.
Watertown, MA

"My wife and I hired Tom Curren Companies to stain the outside of our..."

"Our 1935 bungalow was overdue for a paint job. The Curren team were very..."

"My home is the most important thing to me. I had 3 estimates done and I..."

"Excellent. The crew chief walked around house on the final day pointing..."

By Laurie S.
Arlington, MA

"Having originally replaced our siding and painted our house exterior and..."

By Leverett F.
Winchester, MA

"I requested an estimate to touch up some painted areas and other repair..."

"We recently had exterior painting as well as significant carpentry repair..."

"We hired Tom Curren Companies to paint two sides of our house plus..."
---
Exterior Refinishing
Refinishing can make your home look as good as the day you bought it.
With the harsh New England weather, your home's exterior can take a beating through the years. In certain cases a fresh, new paint job might do the trick. In other cases, the wear and tear on your house may be more extensive and require a more comprehensive refinishing initiative.
We take the time to inspect your exterior in detail, going through a step-by-step process to identify any warped, damaged or loose boards; cracks, holes or leakage; popped or missing nails; peeling paint; or other issues. And we take the time to assess the best plan of action for your exterior to ensure you understand the real issues, the corrective options, and our proposed plan of action to maximize your value.
---
Deck Painting
Protect and beautify your deck with the right coat of paint.
Included in our painting expertise is our understanding of deck painting and staining. We can paint or stain your new deck so that it looks as beautiful as you dreamed it would.
We know how to help you get more out of your deck investment. Most deck finishes don't last long because the materials aren't applied according to the manufacturer's instructions. We carefully adhere to manufacturer instructions and do not take any shortcuts. The bottom line is that we won't let you get stuck with an inferior job.
---
Exterior home painting truths
Paint does not stop mold
Stains will fail faster than paint
Your home's location matters
Buying in bulk is more cost effective
It'll look lighter than you think
The best paint jobs are resilient
When looking for exterior paints, it's important to understand the relative importance of each of the factors that make up a particular paint product.
Combined with the unique setting of your home, this decision will be the difference between years of satisfaction with your home's exterior versus a new paint job five years down the line.
There are five traits that make the best exterior paint:
Long-lasting appearance: Your paint should be able to maintain its color and gloss for years to come.
Strong adherence properties: Your paint will need to be able to adhere strongly to the surfaces where it's applied, particularly if that surface is old, weathered paint.
Chalking resistance: Your paint should be able to resist chalking for the life of the paint.
Flexibility: It should be able to flex and compress with your building materials as they change shape and size with temperature and moisture levels.
Stain & fungal resistance: Your paint should not attract dirt, nor should it be excessively susceptible to mold, algae, or mildew growth.
Every home has unique paint needs
After considering these factors about your paint, it's also important to ask more specific questions about your home. How will the wood or siding of your home be prepared to best accept the paint you're applying? How much UV light does your home experience? Will your home's new color fit in your neighborhood?
The professionals at Tom Curren Companies can help you answer these questions and ensure the best possible paint choice for your home when you schedule a free quote!
Two coats of paint ensures a great color and covers up imperfections.
"Green" exterior paint choices
Most of the highest-rated paints for both the interior and exterior of your home have a high level of VOC's (Volatile Organic Compounds) in their design. While these toxic chemicals are unlikely to cause health issues when on the outside of your home, these emissions can contribute to environmental damage.
One compromise to consider is to use recycled paint on your home. The performance is comparable to other paints, but you can rest a little easier knowing that you're helping to do your part for the earth.
Begin your home's painting project today
If you're looking for professional, knowledgeable, and certified painters to upgrade your home, we're the experts you're looking for! We're proud of the work we do, and of the satisfied customers we've earned throughout the years.
To meet with one of our specialists for a free quote, contact us by phone or e-mail today! We'll inspect your home, answer any questions you have, and provide you with our pricing in written form.
We proudly serve throughout Waltham, Auburndale, Newton, Arlington, Somerville, Watertown, Brookline, Lexington, Watertown, Natick, and many surrounding areas.