Bathroom Remodeling in Newton, Waltham, Auburndale & Nearby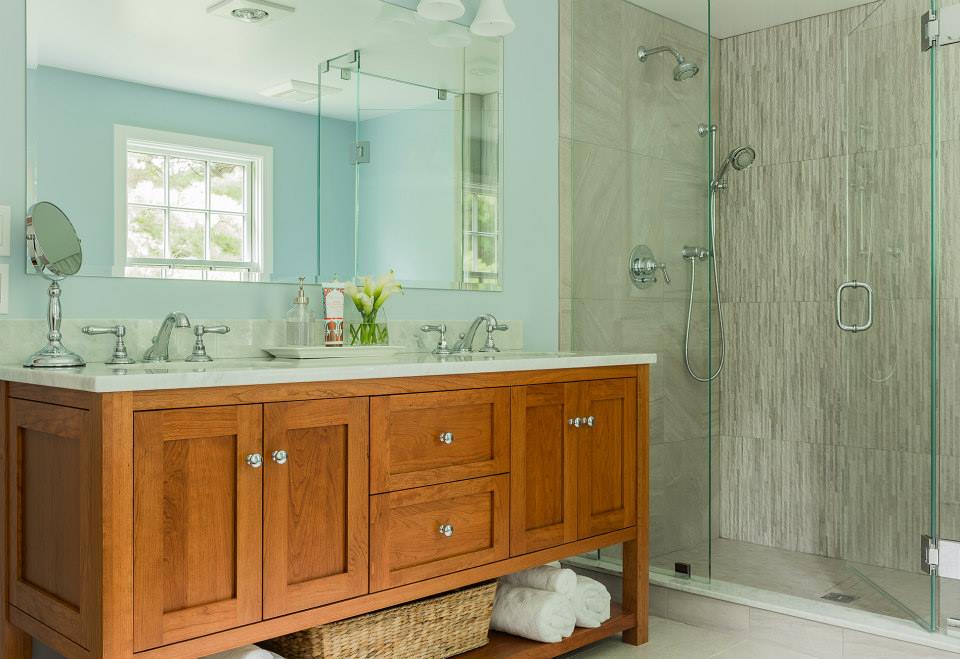 A bathroom remodeling job can include a simple upgrade like installing a new sink or a complete makeover.
We can handle all your bathroom design and bathroom remodeling needs
A bathroom remodel is one of the best ways to upgrade your home's appearance and function. If you've been wanting to update your bathroom fixtures, change the layout, or make any other improvements, Tom Curren Companies are the local remodeling contractors you need!
We provide complete bathroom design and remodeling services, including bathroom vanities, shower and tub installation, fixtures, and custom design plans. No matter what vision you have for your bathroom, we can turn it into reality.
We offer free design consultations and estimates in Waltham, Auburndale, Newton and throughout our entire Massachusetts service area. Call us at 1-844-337-7918 today or contact us online to get started!
Customer Reviews
By Barbara M.
Weston, MA

"Tom Curren Companies painted our house and replaced the shutters in 2005. His team did a terrific job and completed on time and..."

By Fran G.
Newton, MA

"I had several companies come and talk with me about totally redoing and old bathroom. Tom Curren's group were the last. It was..."

By Mary W.
Bedford, MA
Custom bathroom design and installation
There is no better way to make a home your own than through customizing the layout and design. Our remodeling pros will work with you to create a unique bathroom design that fits your personal taste and your home's style.
We can replace and install tubs, showers, vanities, toilets, and more to ensure that your new bathroom is a perfect fit with your home. We will also work with you to find the right floors, light fixtures, paint, and other finishing touches to complete the design and give you a flawless finished space.
Complete remodeling services for all your needs
Remodeling your bathroom can range from simple cosmetic upgrades to a complete overhaul that redesigns the layout and function. Tom Curren Companies can help you find the perfect solution for your needs and give you a custom design that meets all your goals. Our remodeling services include:
No matter what design ideas you have, we can turn them into reality.
Bathroom vanities: Finding the right vanity for your bathroom is essential to any remodel. Whether you want a single, double, or custom vanity, we have the quality cabinets, sinks, mirrors, countertops, and light fixtures you need to create a beautiful finished appearance.
Bathtub refinishing: Many homeowners don't want to deal with replacing their existing tub, which is why refinishing is a great option. Re-glazing your tub will make it look brand new and perfectly match the rest of your upgraded bathroom.
Liners, enclosures, and surrounds: Giving your tub or shower a completed appearance is crucial to any bathroom remodel. We offer a variety of tub and shower surrounds, shower enclosures, and tub liners to allow you to create the perfect design for your home.
Flooring: We install a wide variety of styles, colors, and textures of tile flooring for your bathroom, which will help you create a seamless design throughout the room.
Small bathrooms: If you're looking to remodel a small bathroom or powder room, we can help. The right vanity, flooring, and paint will completely transform the appearance of any small bathroom.
Upgrade your home with expert bathroom remodeling today
If you're ready to start your bathroom remodel, call your local home remodeling experts at Tom Curren Companies. We have a solution for all your remodeling needs, and we will give you a beautiful new bathroom that will last for years to come. Call or email us today to schedule a free bathroom evaluation and design consultation in Newton, Waltham, Auburndale, Arlington, Somerville, Watertown, Brookline, Lexington, Watertown, Natick and nearby!