Quality Bathroom, Kitchen and Remodeling Services in Auburndale, Waltham, Newton, and Nearby MA
Complete Remodeling Services in Boston Metro area and surrounding suburbs
Design the perfect room. We can transform your home into the beautiful space you've always wanted.
Many homeowners dream about remodeling their house and transforming it into their own custom space. Finding the right contractor can be difficult, however, which is why Tom Curren Companies is here to help with expert home remodeling services.
We can handle all your remodeling needs, including bathrooms, kitchens, siding, windows, and more. Our experienced professionals will work with you to design the perfect space for your needs and give you a custom plan that is exactly what you've envisioned.
If you want to upgrade your home with custom remodeling services, call us today at 1-844-337-7918 or contact us online to get started. We offer free estimates on all our services in Waltham, Auburndale, Newton and the surrounding areas.
Our remodeling services

Not sure what would look appropriate? Tom Curren's design team can help you flesh out the details from hardware to finishing touches that complete your kitchen or bathroom look. Just explain elements you want included in your dream home and we'll make it your reality.
---
If your kitchen is worn down, has outdated appliances, or doesn't work efficiently, full kitchen remodeling can help! We will design a beautiful, practical workspace that includes new cabinets, backsplash, countertops, flooring, and more. Whether you want to update an existing kitchen or design a completely custom space, Tom Curren Companies has the expertise to turn your plans into reality.
---
Bathroom remodels are among the most popular home improvement projects, and we can handle everything from a master bath to a small powder room. We'll work with you to find the best fixtures, countertops, and layout for your needs, ensuring that your bathroom remodel gives your family exactly what it needs.
---
Replacement windows are essential for any home improvement project, as they provide a fantastic finishing touch to complete your design. However, they also have several benefits of their own, as new windows will reduce drafts, improve insulation and comfort, and can help cut utility costs.
---

Siding can transform a home's look quickly while protecting your largest asset, your home. Wood siding, cedar siding and shake siding are all materials we expertly install and can even show you different options for trim and other home accents.
---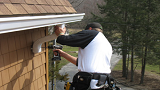 Gutters bring potentially damaging water away from your house and can also be a home accent to give the house the look you want. Wood, seamless aluminum, and gutter caps are all very popular options in our region.
Customer Reviews
"We have a 100+ year old home that had the original cabinets built into the..."

"A great company with a helpful staff, quick response time, and hard..."

"Tom Curren Co installed a new front entry door, and new French patio doors..."

" Great folks and beautiful work."

"Tom Curren Companies painted our house and replaced the shutters in 2005..."

By Amanda ..
Auburndale, MA

"This company has built a great reputation! 5 Stars all around!"

By Patti S.
Auburndale, MA

"As a realtor whose clients often ask for recommendations for painters and..."

By Daspuru
Auburndale, MA

"I recommend Tom Curren Companies (TCC) to anyone who needs a handyman. I..."

By Carol D.
Auburndale, MA

"We hired Curren for a deck replacement and converting a screen porch into..."

By Marissa C.
Auburndale, MA

"i recommend Tom Curren Companies for all their services. They are..."

"Excellent service and quality of work. We needed to replace our wood..."

By Donna M.
West Newton, MA

"Joe, the handyman from Tom Curran Companies, has been our life-saver! He..."

By Gwen B.
West Newton, MA

"For many years I watched the storm door flip around in the wind,feel the..."

By Terrence M.
Newtonville, MA

"We hired Tom Curren Companies on the recommendation of a friend of a..."

"I had several companies come and talk with me about totally redoing and..."

"I've had many projects done by the Tom Curran Co. The whole process of..."

By Elizabeth F.
Brookline, MA

"Joe, of Tom Curran has on two separate occasions done a superlative job in..."

By Tim And Margaret L.
Brookline, MA

"Tom Curren Company came highly recommended by good friends. Once we met..."

"Work: 1. Clean existing gutters 2. Install gutters on extension with a..."

"They did a great job on interior painting as well as a full kitchen and..."

By Beverly D.
Arlington, MA

"I hired handyman (Joe C.) who recaulked my tub, filled holes in plaster..."
Take the first step toward making your dream project a reality
If you've been wanting to improve your home, don't wait any longer! The experts at Tom Curren Companies will give you the perfect solution for all your remodeling needs, creating a great living space and improving the comfort and function of your home.
Call us today at 1-844-337-7918 or contact us online to get a free estimate on all our remodeling services. We proudly serve in Auburndale, Waltham, Newton, Brookline, Arlington, Somerville, Natick, Lexington, Watertown, Watertown and throughout the surrounding areas.